While European institutions are finally recognising the heroism of human rights defenders in Azerbaijan – thus making clear that their struggle is of global significance – every single political prisoner so far rewarded remains in jail. Our attention needs to shift to the only real prize: to get international institutions and states to act and to sanction.
It is time for a really broad-based campaign … targetted not the authorities in Baku, who are beyond shame, but human rights institutions betraying human rights defenders. Note: Azerbaijan, the current chairman of the Council of Europe, holds in its jails today the men and women winning or considered for the very highest prizes in the field of human rights in the world. And so far the Council of Europe – including its general secretary – acts as if this has nothing to do with them.
Mr. Jagland has issued a press release on the events in Ferguson, Missouri … how about issuing a press release congratulating Anar Mammadli, the winner of the Vaclav Havel Prize 2014, who used to work with the Council of Europe, and is in jail today?
Mr. Jagland has met the Azerbaijani president already three times in recent months. How about cancelling all participation of the Council of Europe secretariat in events in Baku until there is news about the situation of Ilgar Mammadov … who is in jail, but disappeared more than a week ago, has no contact with lawyers … and who also worked for and with the Council of Europe? Or until Leyla Yunus, Rasul Jafarov and so many other human rights defenders are released?
Mr Jagland: if you think doing nothing remains an option for your institutions you underestimate the strength and moral purpose of the broad-based coalition that is currently emerging across Europe.
The case of Leyla Yunus
Here is the most recent email ESI sent to all the members of the European Parliament who decided on 7 October 2014 on the final short list of three candidates for the 2014 Sakharov Human Rights Prize.
Now that Leyla Yunus has been chosen, these arguments remain valid as the European Parliament will chose the 2014 winner.   
Honourable Member of the European Parliament,
Today you will decide on the finalists for the European Parliament's Sakharov Prize 2014.
We appeal to you to give your vote to Leyla Yunus – on behalf of all other human rights defenders and dissidents in Azerbaijan. Almost 100 of them are imprisoned like Leyla (see this list), the others face a chilling wave of repression.
These Azerbaijanis stand in the tradition of those who fought for human rights during Soviet rule. Distinguished Russian activists, some of them former political prisoners, underline this in a joint letter to the European Parliament that was published last week (available in English andRussian). Three of them – Lyudmila Alekseeva, Sergei Kovalyov and Oleg Orlov – shared the EP's Sakharov Prize in 2009.
 Oleg Orlov, Lyudmila Alekseeva and Sergei Kovalyov receiving the Sakharov Prize 2009
Photo: European Parliament
Your vote for Leyla will be a vital sign to Azerbaijan's besieged human rights community that they are not alone.
It will be a sign that the European Union, led by the Parliament, does not close its eyes to repression anywhere on our continent.
It could be crucial also for this generation of human rights defenders. The fate of Leyla, one of the most respected human rights activists in the country, is telling. Prison conditions in Azerbaijan are appalling. At age 58, Leyla suffers from diabetes and has caught a flu in her cold cell. She has been repeatedly beaten. Last Saturday, her lawyers stated that her health "has extremely deteriorated" and "that there is no guarantee that Leyla will survive until the end of this year".
The authorities are now going after the handful of remaining lawyers who defend human rights defenders, and torture has returned to jails in Azerbaijan.
There is hardly any news of Leyla's husband Arif Yunus, a historian and peace activist, who was arrested in early August, a few days after Leyla, and is held at a facility notorious for torture of inmates.
Leyla and her husband Arif Yunus, both imprisoned by the Azerbaijani authorities
For 10 days, there has been absolutely no news of Ilgar Mammadov. All food parcels sent to him by his family have been turned down. The director of the Council of Europe's School of Political Studies in Baku intended to run against President Aliyev in the elections in October 2013, but was arrested beforehand and sentenced to 7 years in prison last March. The European Parliament demanded his immediate release already last year. Lately he announced that he faces serious pressure to write an open letter of apology to the government. Then he disappeared.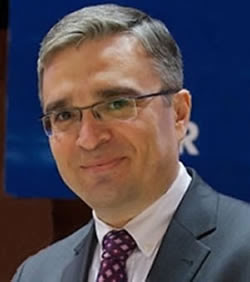 Ilgar Mammadov
The "crime" of Mammadov, the Yunuses and the other Azerbaijani political prisoners is their desire for a pluralist society, for respect of human rights, for peace – for the values on which the EU has been built.
Azerbaijan is member (currently even chair) of the Council of Europe. It has accepted the Paris Charter for a new Europe. It is formally committed to all the norms on which Europe's post-cold war order is built. To watch one regime dismantle all civil liberties with impunity and make any human rights work impossible, and to let it happen, creates a terrible precedent. It undermines the norms on which European security rests.
Today you can take a step to prevent it from happening.
With the very kindest of regards,
Gerald Knaus,
Chairman of European Stability Initiative (ESI)
Attachments area
Preview attachment Memorial – Letter to the European Parliament – Sakharov Prize Leyla Yunus 2014 – EN.pdf
Memorial – Letter to the European Parliament – Sakharov Prize Leyla Yunus 2014 – EN.pdf
Leyla Yunus for 2014 Sakharov Prize